Yes, I am blogging again . . . it has been a super crazy year (won't bore you with the details) and I have been so neglectful of my poor ole blog (again!) How do you folks make time every day to post? I admire all who do. So there is lots of news here to share.
My annual Thanksgiving giveaway is under way. You can find the details here: Give Thanks! Random drawing will be on Thanksgiving Day and you could win the big ole Rooster Vane hooking pattern on linen (a $90 value!) And as an added bonus, if you share the news on Facebook and one of those you share it with enters, you get an extra entry in the giveaway! So check that out and get your name in the game!
Rooster Vane was offered as my Hook-a-Month project in the fall of last year – it was a huge success – everyone loved this old faded pattern.
More fun news! If you order anything from either of my Etsy shops on Black Friday (11-28-14) you get free shipping! And you will receive an emailed coupon code worth $10 off your next purchase! So click on over and see if there isn't something you can't live without!    Folk'n'Fiber Etsy Shop      Vintage on the Ridge Etsy Shop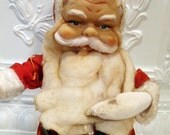 I have also secured an Etsy Reader, so I can now make sales offline. If you are looking for a vintage item or something for rug hooking that you don't see on my site or in my Etsy shops, just shoot me an email and I just might have it! I still have tons of vintage goods that are not in my Etsy shop, so chances of me having what you are looking for might be good. You don't know if you don't ask, right? I can do your credit card purchase right over the phone, you get emailed a receipt, and I will ship it out! Pretty cool. I love technology!
You know what is the MOST fun? Connecting with, and having conversations with, rug hookers! I recently joined an awesome group of rug hookers in a new Facebook group called Out of Hand Rug Hookers! Fun name isn't it? It is the best group – everyone posting photos every day and having great conversations about rug hooking. Come on over and ask to join. You will love everyone – lots of familiar names and just good inspiration!
Right now, I have nothing on my frame! Designs keep swirling around in my head when I try to go to sleep at night – my frame is calling . . . but by the time I get everything done during my day, I procrastinate.. "tomorrow", I say. I think I need a swift kick in the behind! Social media is fun, but it sure eats up your time. However, my Pinterest account stopped working, so that is a time saver! I do miss it though! Always something to fix or do.
And the most exciting news – drum roll… my daughter's wedding was October 11 in Cincy. So of course, 'crafty Mom' (that's me) made tons and tons of decorations and all the flowers. So I drove down with a loaded car and it was wonderful. I walked Maggie down the aisle to become Mrs. Voshell. I cried buckets of happy tears and welcomed Trace into our family with open arms.
So here are a couple of photos – isn't she beautiful? Yes, I am biased, but she is just as beautiful on the inside as she is out. So proud of her and also of her hubby (he beat cancer last year, so this was an especially grateful celebration of their new life together!)
Me, trying hard not to cry!
Well, that's it for now — I hope I still have readers left! So sorry for being away . . . have a joyous Thanksgiving and hug your people!!
~~**Sally**~~